5 Torches Deep Actual Play podcast. My Friday game group play 5 Torches Deep a game that is known as an Old School Renaissance (OSR) style game which means that it plays towards the old style of Dungeons and Dragons and focus mainly on actual dungeon delving. It is a smaller less complicated ruleset that is tremendous fun with a basing in the rules from Dungeons and Dragons 5e The system is one where the party are more adventurers than heroes, they are very vulnerable and can die very easy. In the early days of the campaign we lost so many adventurers we created a In Memoriam page to honour the Glorious Dead. Find the youtube versions where we play over Roll20 and Discord here: https://www.youtube.com/playlist?list=PLKXu_BCsRNogbxIEWS2Clbw7WvLM9_OjY Join our Facebook group here: https://www.facebook.com/groups/973462380050335/
Episodes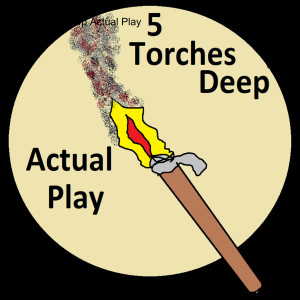 Monday Mar 07, 2022
Monday Mar 07, 2022
The party have marched into the Caves looking for the Cult of Chaos. They continue their march forwards with their brave allies have found a large chamber, which they suspect to be the main chamber of the chaos mage.
This episode again was recorded by Rob as I was unavailable so there is no video feed. 
We ended last episode with Neal looking into a room full of Zombie and Skeletons......
Youtube version can be found here: https://youtu.be/x5Xsq30D3dA
Facebook Video version can be found here: https://www.facebook.com/569100682/videos/345297554194186/
For more information or to contact us please visit/join our group on Facebook to keep up to date with releases: https://www.facebook.com/groups/973462380050335/